Via Bisceglie 89/91 – 20152 Milan
Business Office: Mon - Fri 09:00 – 19:30 | Sat 08:30 – 17:00
Opening Hours: Mon - Fri 09:00 – 18:00 | Sat 09:00 – 13:00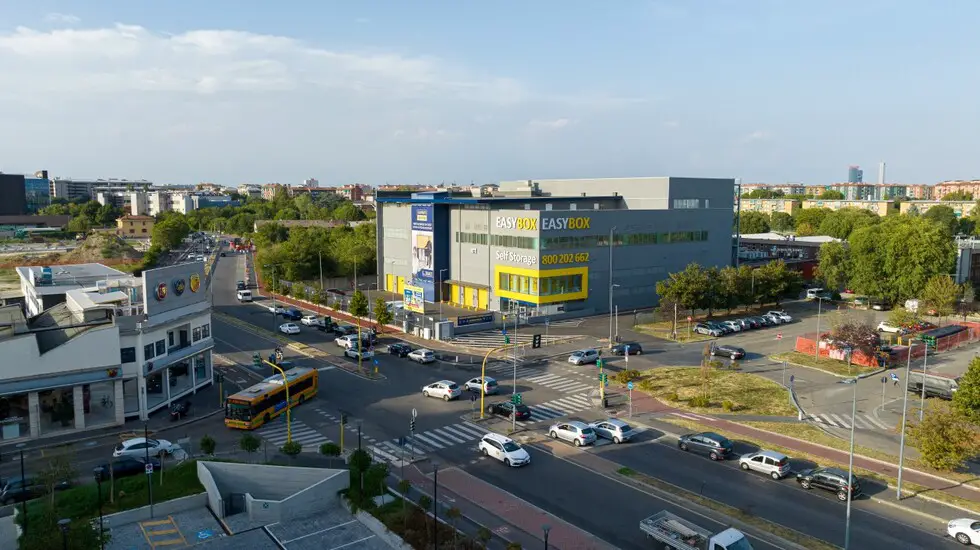 In April 2020 EasyBox will be opening a new store that covers the western area of Milan. Arranged on 5 floors, EasyBox Milan West will offer 6,500 square meters of space and about 800 self storage units.
How to reach EasyBox Milan West
By car
EasyBox Milan West is easy to reach if you take the western ring road of the city. Take exit 5 – Milano Lorenteggio and follow via dell'Industria until it becomes the SS494 and then via Lorenteggio. At Via Bisceglie, turn left, drive for 450m and you will find EasyBox Milan West on your right.
By train
The nearest railway stations are Milano San Cristoforo 1.5km away and Corsico about 2km away. Both stations are served by the S9 and R31 lines.
By underground
The nearest metro station is Bisceglie M1, 1km away.
By bus
In via Bisceglie there are several bus lines, the numbers are 47, 321, 322, 327 and 351.
In the neighbouring areas
EasyBox Milan West is in a large commercial area, home to some large companies, including Vodafone, Huawei and Reply. 400m from the EasyBox store is via Lorenteggio, where you can find many businesses, bars and restaurants, such as McDonald's, MangiaSpaghetti, El Idolo and Pizzeria Luna Rossa. For shopping a short distance away you will find a large Esselunga and several shops, such as the Ancient Butcher Shop in piazza Carabelli and the Bakery Il Fornaio in via Inganni.
Among the places of interest nearby there is the Giardino delle Crocerossine, a beautiful green space where you can walk and enjoy a bit of relaxation, the Vodafone Village, a large sustainable complex for offices and services, home to the large telephone company and the Agorà, a stadium with 4,000 seats for ice skating and ice hockey.
About 4km from the EasyBox store you can reach the Mudec, a renovated factory that includes an art and culture museum with traveling exhibitions and also the IULM University.