Milan Vimodrone
Contact Us
Via Fernando e Maddalena De Padova, 8, 20055 Vimodrone MI, Italy
Business Office: lun-ven 08.30 - 19.30 / sab 09.00 - 17.00
Opening Hours: Prossima apertura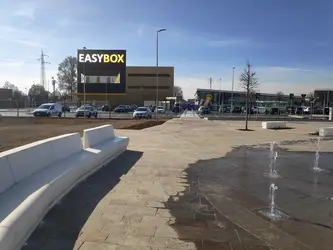 Self Storage Services in Milan Vimodrone
Searching for personal or business self storage services near Centro Commerciale Vimodrone? EasyBox Self Storage Milan Vimodrone has modern and secure self storage spaces for rent in Vimodrone to suit any needs, from Vimodrone furniture storage to modern office rentals and more!
Store Location
EasyBox Self Storage Milan Vimodrone is conveniently located on Fernando and Maddalena De Padova Street, just three minutes from the popular Vimodrone Shopping Centre. Our central location off the A51 motorway and drive-up storage spaces make storing your items simple and hassle-free, with a friendly team onsite to lend a hand when you need it.
See our map for directions to the EasyBox Milan Vimodrone facility.
Store Features
At EasyBox, you can use self storage in Milan Vimodrone for your exact needs, whether its bulky business stock, family valuables, or confidential documents. Our self storage facility is the first new-built store in Italy, equipped with solar panels, state-of-the-art security features, and drive-up warehouses for easy unloading.
EasyBox Milan Vimodrone self storage services and features include:
Convenient location with ample parking and drive-up storage spaces
Energy efficient facility with solar panels covering 90% of the site's energy consumption
High-quality packaging supplies available for purchase onsite
24-hour video surveillance
Reliable transport and removals services
Flexible terms with no lock-in contracts
Goods reception for deliveries
World-class meeting rooms and office spaces
Visit EasyBox for a tour of our ultra-modern facilities and features. You can also contact us at any time to get a personalised price or learn more about our self storage solutions in Milan Vimodrone.
Moving Supplies
Searching for affordable self storage space and storage boxes in Vimodrone, Lombardy? We take care of all your storage and moving needs, including packaging supplies. Buy packaging materials straight from our facility. From boxes and bubble wrap to protective bags for clothes and duvets — we've got everything you need to make moving easy.
Removals Services
EasyBox Milan Vimodrone not only offers quality storage boxes, but expert removal services to help lift the load on moving day. Our removal specialists ensure your belongings are safe and protected throughout the move, from collection to delivery.
When you choose EasyBox, you can expect:
Solutions tailored to your specific needs
Experienced staff to guide you through the move
Direct access to your storage space with no hassles
Professional and outstanding customer service
Accurate and transparent prices
Contact our Milan Vimodrone team and we'll find a moving or storage solution tailored to your needs.