Via Pier Luigi Bagnasco 3, 16152 Genova
Business Office: Mon - Fri 09:00 – 19:30 | Sat 08:30 – 17:00
Opening Hours: Mon - Fri 09:00 – 18:00 | Sat 09:00 – 13:00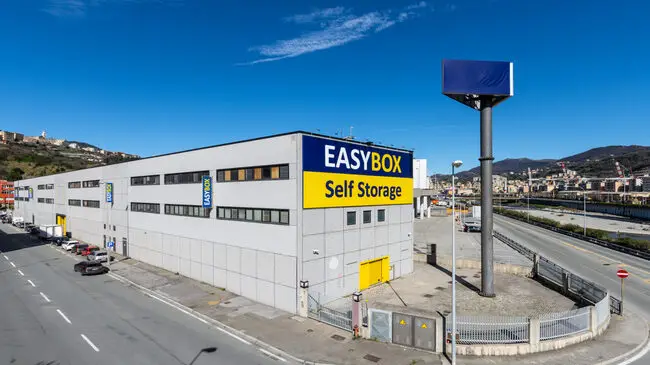 EasyBox Genoa is in a strategic position 3 km from the port of Genoa, our team is at your disposal with a wide range of self storage solutions. Contact us today to find out more.
How to reach EasyBox Genoa
Trying to get to Easybox in Genoa? You will find us in the Cornigliano district, with the exact position being in the Campi shopping area. This is an area easily accessible by train car or even by public transport.
By train
If you are travelling by train, Genoa Cornigliano station on the Genoa-Ventimiglia line is only 1.7 km southwest of EasyBox Genoa. Not far away, Genova Sampierdarena station is located to the south-east of the store. It is the third largest train station in Genoa and serves the Turin-Genoa, Genoa-Ventimiglia and Asti-Genoa lines.
By underground
For those who prefer to travel by underground, Brin is the nearest station. It is located on the Brin-Brignole line which travels between the east and west of the city and is 1.8 km walk from EasyBox Genoa.
By car
Travelling by car, the best option is to take the State Road 1 – via Aurelia. EasyBox Genoa is in the area of the Polcevera river and is accessed by street Via Pier Luigi Bagnasco.
By bus
Alternatively, you can reach us by bus. The number 63 (from Sampierdarena to Pontedecimo) stops in via Renata Bianchi only a few minutes walk from EasyBox Genoa, while the number 1 bus (from Caricamento to Voltri) will take you to via Ludovico Antonio Muratori only 12 minutes walk away. The number 3 bus (from Principe station to Sestri) stops closer in via Giovanni Ansaldo. You could also take the number 8 (from Sampierdarena to Bolzaneto) to Piazza Palmeta, 26 minutes walk from EasyBox, or the number 18 (from Pronto Soccorso S. Martino to Sampierdarena) to Via Eustachio Degola – a 15-minute walk. Whatever way you decide to travel, there are plenty of options available.
In the neighbouring areas
EasyBox Genoa is very close to the main attractions of Genoa.
Fiumara Shopping & Fun is a large shopping centre with cinema, bowling alley and shops. It is 1.3km away right next to the RDS Stadium, which hosts both indoor sports events and concerts. Just 3km southeast, you will find the Lanterna di Genova, one of the most important landmarks of the city, now a tourist attraction that you can reach on foot from via Milan.
EasyBox Genoa is in a commercial area to the west of the city. About 4km away is Principe Station – the main station serving the city. From here, most of Genoa's main attractions are accessible on foot, including the Columbus House, St. Matthew's Gothic Church, St. Lawrence's Cathedral and both the city's ports, the historic port and the new one, known to be one of the two largest ports in the Mediterranean.
Near EasyBox Genoa you can also find a number of department stores. Within a two minutes walk there is Leroy Merlin, Ikea, Decathlon, Unieuro, Maisons du Monde and Diffusione Tessile, all in the Genoa Campi area.